TILL RICHTER – DRUMS, PERCUSSION, PIANO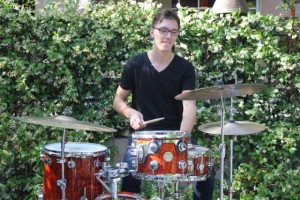 Born in Braunschweig, Germany, Till started playing drums at the age of three and played his first professional gig at the age of nine with his father's band. He also learned piano since the age of six. Through his teens, Till continued to play in several high school and private music school bands in his hometown. He had the privilege of studying with Benny Greb, Jost Nickel, and Stephan Emig. He worked with renowned musicians Brad Rabuchin, Phil Bynoe, David Garfield, Joe Porcaro, Dorian Holley, Richie Garcia, and Pathik Desai. He recorded and performed with artists such as Alex Knolle, Jazzkantine, and Satellite View. He also participated and won the nationwide competition Jugend Musiziert as well as the Drumheads-Playalong contest.
Till attended the Los Angeles College of Music in Pasadena, earning a degree in Drum Performance. He founded the pop/rock band and Grammy U Amplifier Contest winner Bonavox, who released an EP at South by Southwest in March 2014. Till currently performs drums throughout Southern California, including music videos and live concerts. He teaches drum and piano lessons for all ages.