PEI-TING LU – CLARINET, PIANO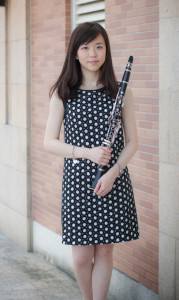 Pei-Ting Lu, a native of Taiwan, began her musical studies at the age of 7. She moved to the U.S. to study clarinet performance at Interlochen Arts Academy under the tutelage of Dr. Nathan Williams. Miss Lu achieved her Bachelor of Music in Clarinet Performance from the University of Michigan under Prof. Daniel Gilbert. In addition, Pei-Ting completed her piano study as a secondary instrument with Prof. Katherine Collier. She recently finished her Master's of Music degree from Florida State University (FSU), having studied with Dr. Frank Kowalsky and Dr. Jonathan Holden.
A recipient of numerous awards, Pei-Ting won second prize in the Young Artist Concerto Competition at FSU. Recently, she received honors in the Music Teachers' National Association Young Artist Woodwind Competition. Not only does she perform as a soloist, Miss Lu is also an active chamber player. She has formed various chamber groups while studying in the U.S. and Taiwan. She won second prize in the Clarinet Quartet Competition at the International Clarinet Festival in Taipei, with her group.
Pei-Ting has been tutoring students of all ages in both piano and clarinet for many years. She focuses on fundamentals for both beginners & advanced students, and believes that enjoying playing music is the most important aspect for her students.