JUAN HERNANDEZ – CLASSICAL & ELECTRIC GUITAR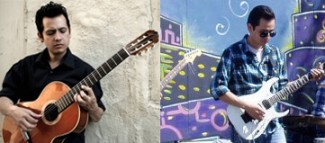 Juan Hernandez began his guitar studies at a young age. In his many years of teaching, he has been successful in developing his beginner students in to confident-level guitarists. He received his Bachelor's and Master's degree from California State University Los Angeles where he was a recipient of the Friends of Music Scholarship under the tutelage of the well known guitarist Dr. Matthew Elgart of the celebrated Elgart/Yates Duo.
Apart from classical guitar, Juan is also an accomplished electric guitarist and instructs in rock and pop styles as he has participated in the modern music scene by playing in diverse rock and pop bands and has performed in various Hollywood venues such as The Whiskey, The Roxy, The Viper Room, and The Cat Club. He has attended workshops in which he studied advanced electric guitar techniques with rock virtuosos such as Joe Satriani, Tosin Abasi, Guthrie Govan, and Andy Aledort. He has also provided motivational and professional support to other bands and groups with music arrangement and the development of distinct musical styles.
Juan has performed in more than 50 guitar performances that include recitals and private events. He currently performs with the Orange County Guitar Orchestra, first guitar section.