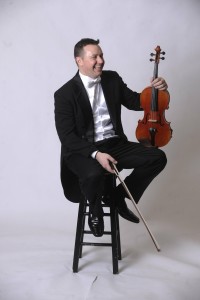 A graduate of the Eastman School of Music, University of Rochester and the College-Conservatory of Music, University of Cincinnati.
Daren's performance career has included engagements such as; auxiliary violist for Cincinnati Symphony, Pops and Cincinnati Opera Orchestras; an auxiliary member of Columbus Symphony Orchestra in both the violin and viola sections; auxiliary violist for the Cincinnati Chamber Orchestra; assistant and principal violist of Fundacion Sinfonia under the direction of Philippe Entremont, Santo Domingo, Dominican Republic. In the past Daren has performed with the Grand Teton Music Festival under former music director Eiji Oue; the Lancaster Music Festival, Lancaster, OH; the Heidelberg Festival, Heidelberg, Germany; and as a concerto soloist under harpsichordist and director Eiji Hashimoto with the 18th Century Music Ensemble in Luca and Florence, Italy.
As an entrepreneur, Daren has served as orchestral tour contractor for Princeton Entertainment's concert production of "Legend of Zelda", in Columbus and Cincinnati, OH; orchestra contractor for performing artist and composer A.R. Rahman's (film score composer of "Slumdog Millionaire") "Unity of Light" tour in Dallas, Houston, San Francisco and Vancouver. With his string quartet in Cincinnati, Daren performed and recorded with vocal artist K.D. Lang on her "49th Parallel" tour for "Mountain Stage" on NPR, Don Henley of the Eagles, Rod Stewart, Harry Connick Jr, Mannheim Steamroller, Transiberian Orchestra, among others.
Daren's private and university teaching experiences include years of teaching private violin and viola students, master classes at the Northern Kentucky University; serving as a guest lecturer at the Xavier University, among others. In the past Daren's students have been accepted into regional, state and national youth orchestras. Daren's professors included Martha Strongin Katz, founding member of the Cleveland String Quartet and professor of viola at the Eastman School and New England School of Music, and Masao Kawasaki, professor of violin and viola at CCM and The Juilliard School.